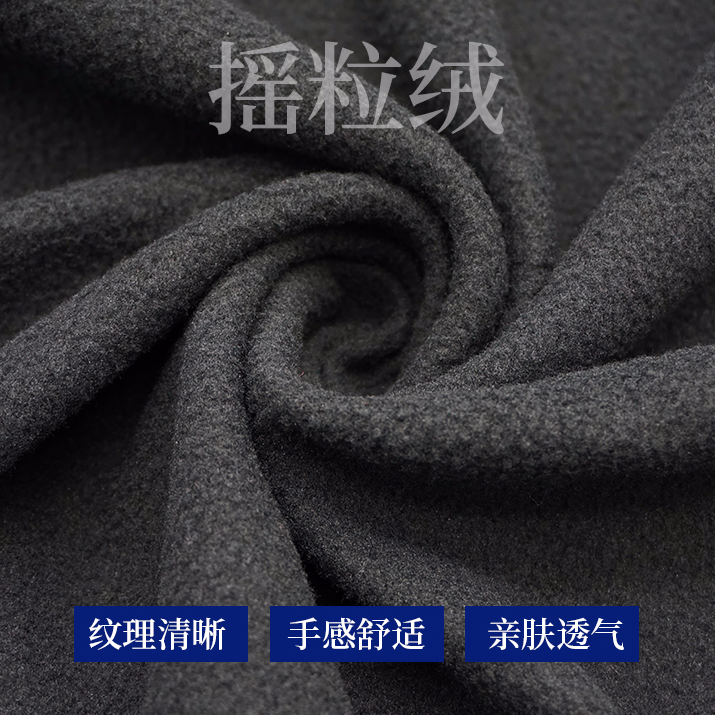 After special treatment, the polar fleece fabric has the characteristics of anti-static, non-flammable and warm. Polar fleece fabrics can also be combined with all fabrics, and used in the production of cold-resistant clothing, which can make the cold-resistant effect better. Common ones include the composite of polar fleece and denim, the composite of polar fleece and lamb, and the composite of polar fleece and mesh cloth with a waterproof and breathable membrane in the middle.
001Product parameters Polar fleece knitted fabric, factory direct sales, multi-color optional. "
02Detailed display of polar fleece, a breathable fabric.
Quality fabric, high color fastness
The fabric has clear texture, soft and delicate texture, and comfortable hand feeling; high color fastness, beautiful color and not easy to fade.
Skin-friendly, breathable, meticulous workmanship
The quality fabric feels soft and comfortable to wear, allowing the skin to breathe freely; it has advanced production equipment, a professional technical team, and strict quality control.
03Scope of application
Polar fleece is soft to the touch and is widely used after processing: sportswear, gloves, shoe covers, household clothes, bedding, cushions, pillows, luggage, tablecloths, etc.
Dongguan Pinkun Technology Co., Ltd. is a subsidiary of Dongguan Pinkun Textile Co., Ltd. Founded in 2012, it is engaged in textiles, protective equipment, police equipment, clothing, shoes, luggage, handbags, gloves, helmets, etc. It integrates R&D, design, production, and sales, and can provide customers with a variety of raw materials and finished products. enterprise.
Mobile phone: 13553857035
Website: http://www.pktex.cn
Address: No. 3, Jiaxi West Road, Jiaxi Village, Shatian Town, Dongguan City, Guangdong Province, China
Shoe fabric composite processing, Dongguan fabric composite manufacturer, multilayer fabric laminating wholesale, fabric composite manufacturer, neoprene composite sbr fabric supplier, plus velvet fabric composite process, silver coated diving clothing, Dongguan isolation clothing export, Pin Kun composite fabric ,Pin Kun Technology